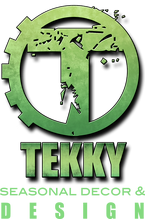 Welcome to tekky toys.
Hi there, and welcome to tekky toys wiki. the purpose of this wiki is to help you learn about Tekky Design animatronics. for even more info regarding their Animatronics go to the spirit Halloween wiki.
Please note that this is only a fan site and we are not in any way affiliated with Tekky Design.
New Animatronics
Newest Tekky animatronics include: Smiling Jack, Black and Red Jumping Spider, Lady of the Grave, IT Reveal Georgie, Harvester of Souls, and more.
Latest activity